Based on customer feedback, ActivityRight has made improvements to features that help administrative users locate and sort reoccurring activity forms and templates from their administrative dashboard.
From the October 2021 development release, staff and teachers using ActivityRight can now quickly determine whether a form is new or continuing from a previous school year. By including the year in the form creation date, administrative staff can look down a list of documents and locate a particular one swiftly.
As the school year moves along, some activities do not close because the deadline stretches into the following year or is not closed off properly. It becomes more challenging to see at a glance which year a specific form is associated with. This enhancement allows users to see this information quickly and easily from the Activities list.
Find Outstanding Payments Quicker
Adding the year to the form details also helps ActivityRight administrators track payments. Some districts allow parents to wait until their student is ready to graduate before paying outstanding fees. A district can have a form remain open for up to three years, so having the year to locate it with is a significant time-saver.
Sort Activity Fee Items and Workflow Templates
School and district administrators are already doing so much in their day, so hunting for a particular form template can cause a considerable distraction. To make finding a form even easier, ActivityRight has added enhanced sorting:
Form templates in ActivityRight now sort alphabetically or in reverse alphabetical order

When a user has a significant number of templates, sorting by template name will save them dozens of hours.
ActivityRight users also benefit from a reporting improvement.
Activity Reports – Responses to Questions
In the reports section, users can view, and export data collected via an online form. If a classroom teacher takes pizza lunch orders for students, they may want a report showing how many students order pepperoni, cheese, and even Hawaiian.
The form responses are available in an administration dashboard

The teacher can select a report and view the results in different formats

For extensive reports, with hundreds of responses, these reports can take some time to load fully. In this release, a message now appears telling the user the system is generating their report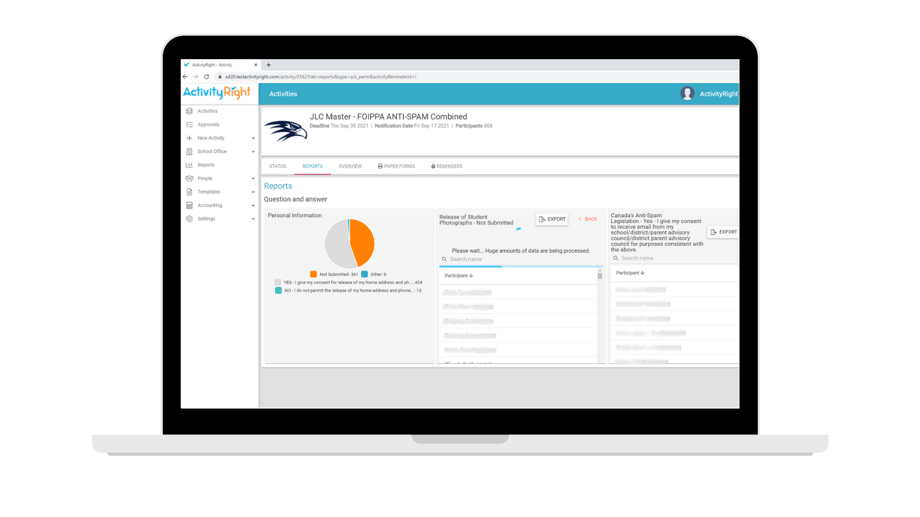 ActivityRight is the centralized engagement platform that enables family engagement and fee management consistently and efficiently across your district.
Schedule a demonstration for a firsthand look at ActivityRight.