What is Approval Workflow? Approval Workflow is a new feature that allows Organizers to set up an approval process, requesting specific users to review the submission, and either approve or deny the application. Use InviteRight to facilitate and store the entire process, so that you avoid the risk of lost paperwork, or missed checkpoints, along the way
Approval Workflows can help you automate your processes, making them both more consistent and more efficient. The Approval Workflow lets you route documents to one or more people for their approval.
The demand for Automation
There's been a need especially in the university space for automating approval forms. Approval forms can be any form of request that needs to be signed (or approved) by certain entities within an organization. As an example, a student requests for permission to enroll on a specific university course. Such activity requires approval from several governing bodies due to certain policies that institutions have put in place. The student then has to physically forward the approval form to these governing bodies which makes it time-consuming. With the new Approval Workflows, the process becomes much simpler!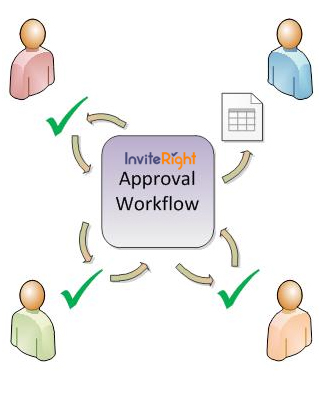 No more hustling around campus, with your form in your hand, trying to get your approvers to sign your form. All you need to do is setup an Approval Workflow, and the system will do the rest for you!